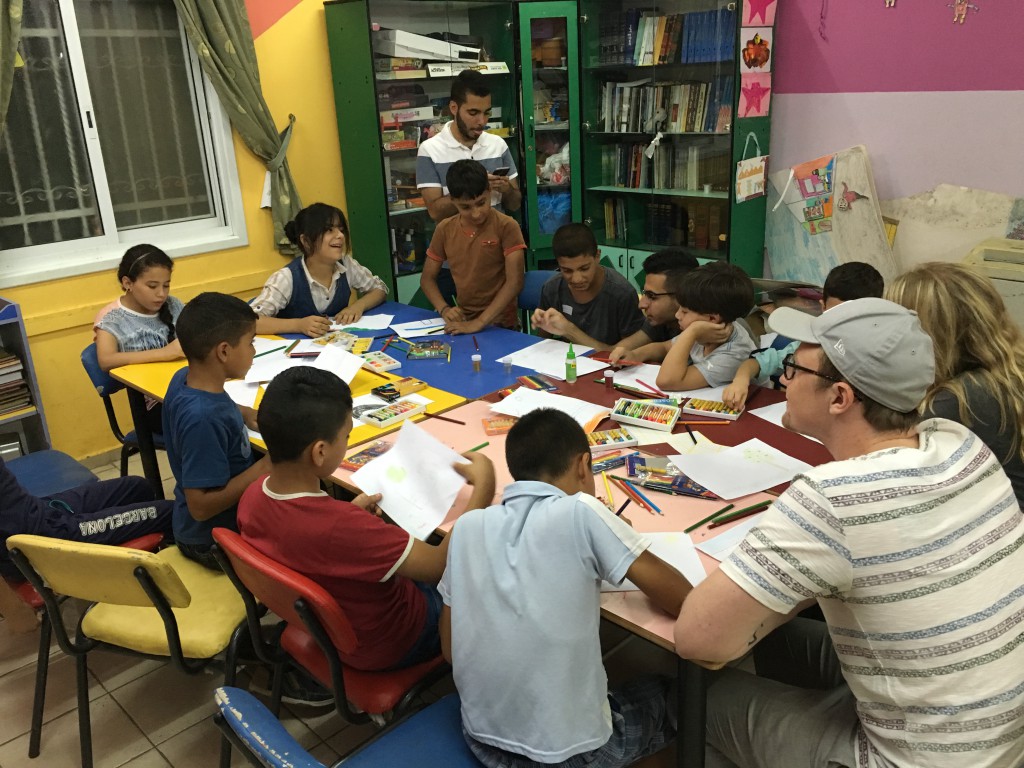 Hvert år tilbringes de to siste ukene av NorPal-Sawa–prosjektet i flyktningleiren Balata. Balata ligger like utenfor Nablus, og det bor over 30 000 mennesker fordelt på en kvart kvadratkilometer. Det er den største og mest befolkningstette flyktningleiren på Vestbredden. Flyktningleiren ble etablert i 1950, og flere av beboerne i leiren har bodd der siden da. Boligene er solide murhus, ofte i flere etasjer, og på lang avstand kan det egentlig se ut som en vanlig, litt fattig bydel i Nablus. Men kommer du deg på innsiden av leiren ser du forskjellen. Gatene minner mer om smug. Husene er falleferdige. Og folk bor tett. Veldig tett. Ofte bor hele storfamilier på et par rom, og privatliv er helt fremmed for dem.
Til tross for at store deler av Nablus blir regnet som en A-sone, og dermed skal være under 100 % palestinsk kontroll, er israelske soldater ofte innom Balataleiren på kvelds- og nattetid. Å vokse opp et slikt sted gjør noe med deg. Soldater kan når som helst komme inn i huset ditt og ta med seg pappaen din, du får aldri muligheten til å være alene med dine egne tanker og du har aldri hatt en følelse av fullstendig frihet.
Årets tema for NorPal-Sawa er mental helse, et fagfelt som blir kraftig nedprioritert innen helsesektoren i Palestina. I tillegg blir det ofte svært stigmatisert i lokalsamfunnet. Barna i flyktningleiren har opplevd og sett mange traumatiske hendelser, og de får sjeldent bearbeidet inntrykkene. Privatlivet er ikke-eksisterende, og mange har så vidt sett utsiden av leiren.
I to uker arrangerer vi sommerleir for barna i Balata, og hver dag gjør vi øvelser som fokuserer på mental helse. En av de sterkeste øvelsene er assosiasjonsleken. Vi spør barna hva de assosierer og tenker på når de hører ulike typer ord. Mange av oss har gjort den samme leken med barn i Norge. Og for å varme opp starter vi gjerne med å si ordet «Norge». Norske barn assosierer fjord, fjell, flagg og snø til Norge. 17. mai, skjærgård og båttur.
Palestinske barn har et helt annet forhold til landet sitt.
Når vi sier «Palestina» svarer de stort sett alltid frigjøring, frihet eller okkupasjon. Deretter dominerer ord som våpen, mord, israelske soldater, skuddveksling, diskriminering, tåregass, krig, Hamas-raketter, døde slektninger, svake palestinske myndigheter og fengsel.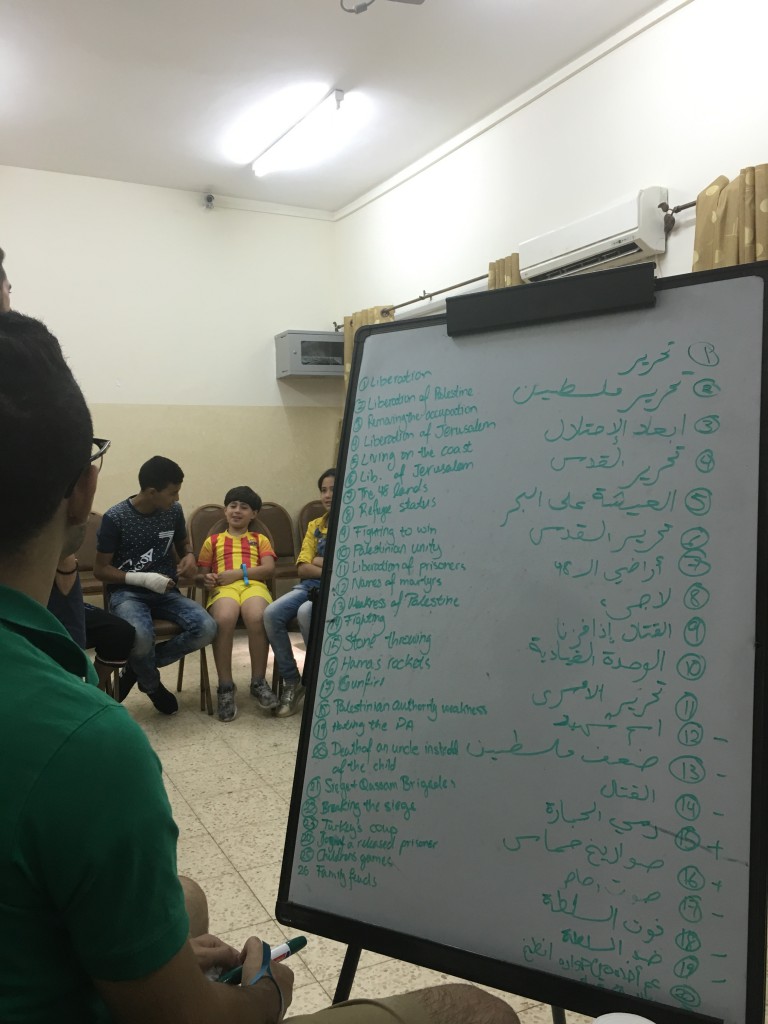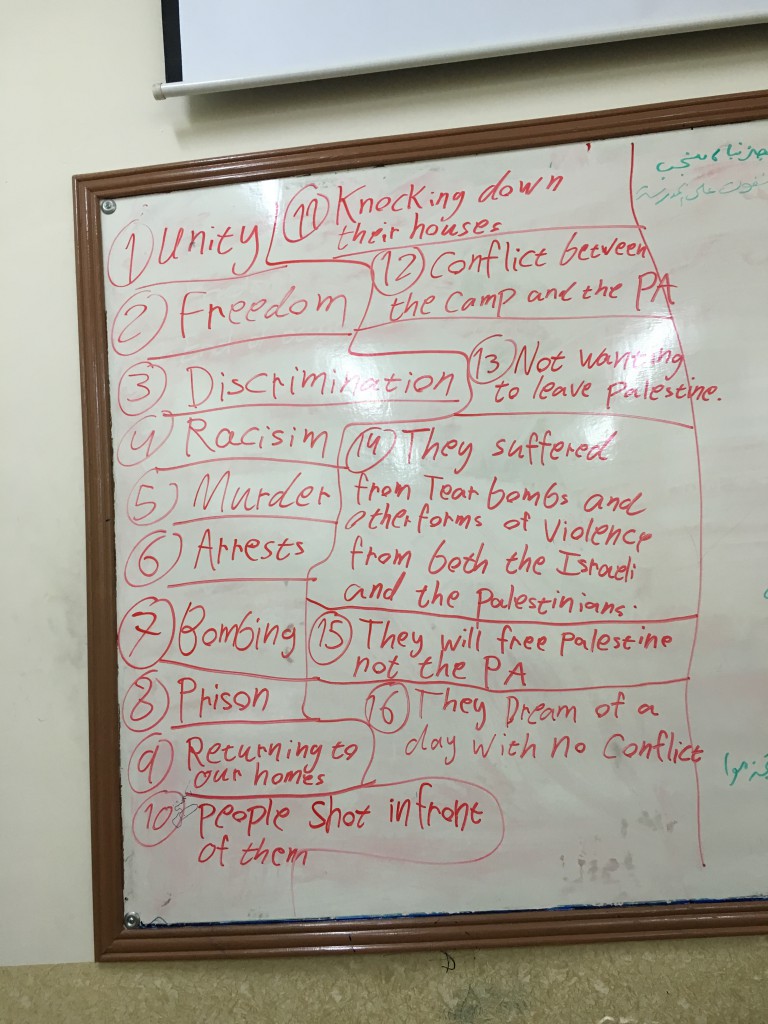 Første gang vi lekte denne leken fikk de norske deltagerne hakeslepp. Å sitte og høre på hvordan sjuåringer forbinder landet sitt med maskingeværer og tåregass er utrolig sterkt. Nesten alle barna forteller om netter der de våkner av at israelske soldater kommer trampende inn i leiligheten og drar med seg slektninger ut. Andre har sett folk bli skutt. Mange, ofte barn nede i sjuårsalderen, har vært i direkte konfrontasjon med israelske soldater. Barna utstyrt med småstein og sandaler, soldatene utstyrt med tåregass og militærstøvler. Ofte sklir diskusjonen videre inn i politikk, og det å høre en åtteårings sylskarpe analyse av hvordan interne palestinske stridigheter mellom Hamas og Fattah ødelegger frigjøringskampen mot okkupasjonen er ekstremt gripende. Spesielt når man tenker over hva norske barn hadde svart hvis de skulle assosiert rundt Norge og det norske samfunnet. Krig, okkupasjon, drepte slektninger og politisk analyse er ganske fjernt fra en norsk 10-årings hverdag.
Men i Palestina lever barna med det hver eneste dag.