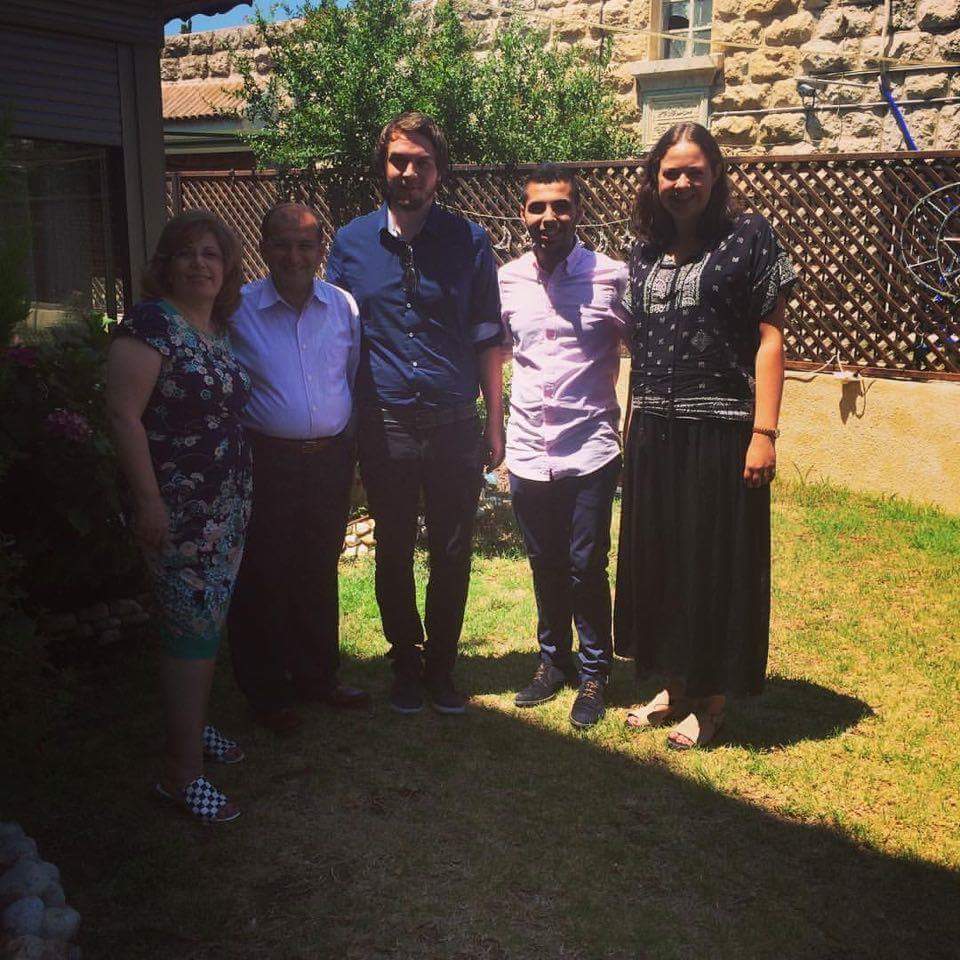 Familien til Mohanad og nordmennene klare for å dra til Haifa
Sekken er pakket, formiddagen på Najah sykehus er over, vi sitter i en minibuss på vei til Qalandia checkpoint. Våre palestinske venner i Nablus spres over land og strand for å feire eid, som er slutten på ramadan, sammen med familie og venner. Den norske delegasjonen er delt opp i to og to og er så heldige å få være med. Vi, Gjertrud og Åsmund, er på vei mot Øst-Jerusalem sammen med Mohanad.
Ved Qalandia checkpoint må vi ut av minibussen, stille oss i kø, gå gjennom metalldetektor, scanne sekkene våre og vise frem pass. Mohanad kommer fra Øst-Jerusalem og er dermed heldig nok til å ha id-papirer som gjør det enklere å krysse checkpoints inn til byen.
Fremme venter en gjestfri familie som tar imot oss med åpne armer. I hjemmet er det ingen som bryr seg om hvordan vi kler oss eller om vi faster, men når vi skal ut blant folk kommer skjorta på. Vi blir tatt med på tur i gamlebyen i Jerusalem, vandrer i Salomos hule og deler vannpipe. Etter solnedgang brytes fasten og vi spiser middag sammen; ramadan er over. Vi er begge enige om at sauehjerte er mye bedre enn sauelunge. Lunge har veldig rar konsistens.
Neste morgen venter familiens tradisjonelle eidfrokost. Det går i sauetestikkel, -lever og -nyre. Gjertrud spiste to porsjoner, minst. Nå har vi ikke så mange organer igjen å prøve. For en annerledes måte å studere indremedisin på! Eidfeiringen består hovedsakelig av å besøke familie. Hvor enn vi går møter vi gjestfrihet og blir tilbedt daddelkaken "ma´moul" og arabisk kaffe. Så hastes det hjem for å se fotballkamp, Wales-Portugal. Portugal vinner, dårlig stemning. Ingen liker Ronaldo, alle elsker Messi.
Neste dag venter tur til Haifa og besøk hos mors familie, åh, det er så varmt! Vi kjører langs murer og passerer det israelske fengselet med palestinske, politiske fanger. De kommer ikke alltid hjem igjen. Vi ser luftballonger med overvåkningsutstyr og legger bak oss flere israelske byer. Haifa ligger helt nord-vest og har en blandet demografisk sammensetning. Mors familie tar imot oss med åpne armer, det blir mer ma´moul og arabisk kaffe, restaurantbesøk og omvisning i byen. Uansett hvem vi snakker med, ønsker de å fortelle om seg og sitt, politikk, historie og okkupasjon. Haifa er nydelig. Baha´i-hagene ligger for våre føtter og etter solnedgang kan vi se helt inn til Libanon, Golan-høyden og skimte grenseområdene mot Syria. Dagen avsluttes med en kald øl og fotballkamp i sentrum av Haifa. Vi ser Frankrike-Tyskland – Frankrike vinner. "Les bleus, les bleus", Gjertrud jubler! Det blir sent før vi er tilbake igjen i Øst-Jerusalem.
Morgenen kommer, vi drar tilbake til Qalandia checkpoint, stiller oss i kø, går gjennom metalldetektor, scanner sekkene våre og viser frem pass. Vi er på vei til Ramallah for å treffe resten av deltagerne. Der skal vi på konsert med vinneren av arabisk idol!
Tusen takk til Mohanad og familien for å ha tatt imot oss. Vår første eidfeiring har vært en fantastisk opplevelse og et minne for livet!
Gjertrud og Åsmund