Som dei einaste av det mannlege kjønn blant dei norske deltagarane, kjenner Audun og Trond Are seg oversett og marginalisert i bokollektivet. Dette er deira skildring av ein tur på byen.
Audun til Trond Are: «Jeg føler meg så liten, så ufattelig liten her jeg går blant de norske deltagerne. To menn og åtte kvinner, våre norske veninner har all makt.» Et usannnsynlig paradoks her i araberlandene.
Trond Are spør: «Ka meine du?»
Audun: «Vi to må ta en tur på byen.»
Og slik gjekk det seg til at Audun og Trond Are drog til gamlebyen for å kjenne seg store. Alkohol i Nablus er ikkje å oppdrive. Kva gjer ein vel då? Jo, då går ein til den eldste hamamen som er å finne. Deira palestinske venn forveksla hamam med Hamas, men Wallah, det er ingen samanheng. Hamam er eit tyrkisk bad. Audun og Trond Are såg for seg herlege dufter, avslappande musikk og massasje av 10 jomfruer kvar. I Nablus er derimot hamamane for mannfolk fem av sju dagar og det inkluderer dei tilsette. Dette var ein av dei dagane.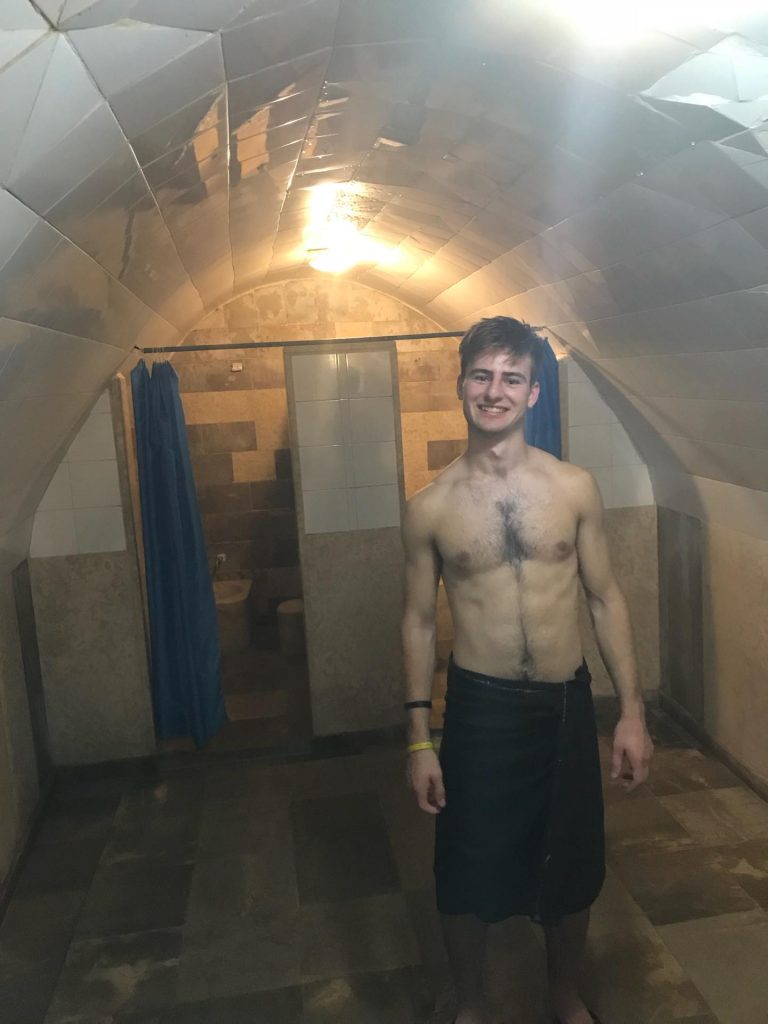 Inne i eit avlukke var det noko som likna ein vask plassert på golvet. Vasken var utan sluk, og nokre steinar til å sitte på var plasserte rundt. «Sjå Audun, dei har fotvask her,» utbryt Trond Are. Gutane set seg til å vaske føtene i kvart sitt avlukke. Tilfredstillande lydar kunne høyrast, dette satt dei skitne tærne verkeleg pris på.
Etterpå var det tid for grilling på gloheite fliser i eit stort opent rom. Dei hardbarka låg direkte på flisene, dei norske måtte ha handduk mellom flisene og huda. Brått kom ei gruppe svære menn inn og låg seg tett i tett på flisene. Latter og grynting kunne høyrast, guttastemning er eit skildrande omgrep. Det heile likna ein flokk kvalross som soler seg på berget.
Lengre inne var damp-rommet; ei lita hule der det var umogleg korkje å sjå eller stå på grunn av steamen. «Eg må ut!» roper Trond Are etter 10 sekunder i damphelvete. (Audun følgde hakk i hel.) Utafor fekk dei seg ein god latter og dokumenterte det heile på film. I naborommet var den gode gamle saunaen. Der blei det utveksla ord med dei lokale, tilværelsen var meir overkommeleg der.
Prisen for å få silkemjuk hud var den frykta skrubben. På utstilling innerst i det opne rommet blei heile kroppen skrapa. Det såg fælt ut då flak av hud lausna, men gud kor godt det kjendes. Skrubbaren sendte oss til massøren, eit beist av ein kar. Han heldt ut i 3 minutt.
Hamamopplevinga vart avslutta med vask inne i avlukket. Dei lokale sat å såpa kvarandre inn på ryggen. Til dei norske gutanes store skrekk var ikkje avlukkene til fotvask, men kroppsvask. La oss håpe dei hugsa å skifte vatn. Inshallah.
Skildra av Trond Are
Video-åtvaring: Inneheld nakenheit