Velkommen til NorPal-Sawa-bloggen 2018! Dette er det sjette året ti norske medisinstudenter reiser til Nablus på Vestbredden for å bli kjent med palestinsk kultur, få et innblikk i et annet helsevesen og for å lære mer om den stadig aktuelle Palestina-Israel-konflikten, samt for å skape nye bekjentskaper og spise hummus.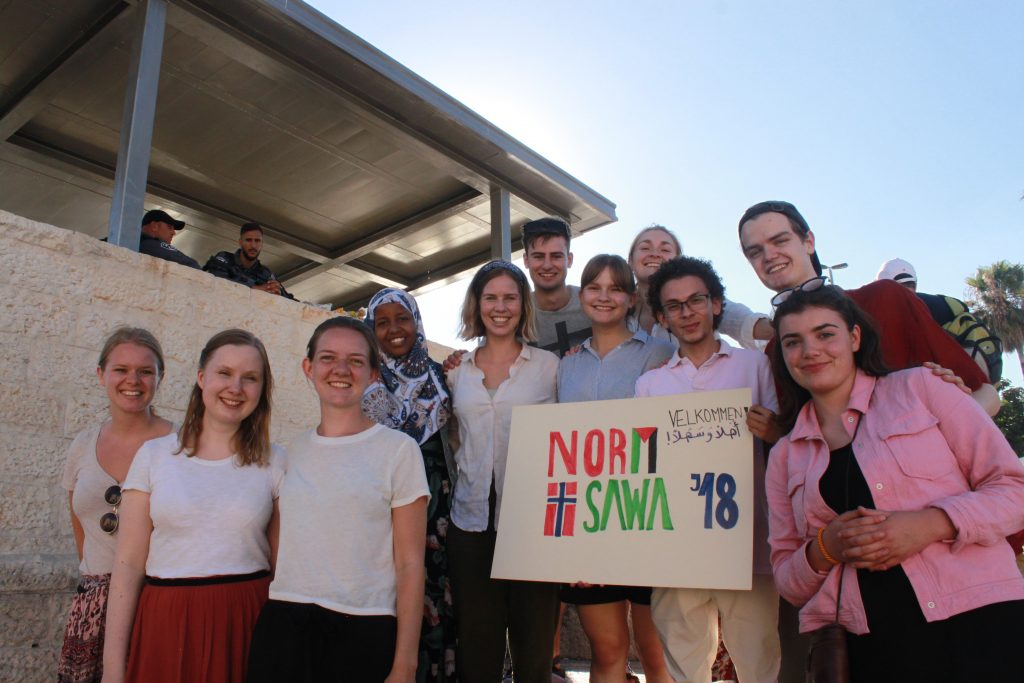 Da vi ankom byen for et par dager siden ble vi tatt imot av de ti palestinske medisinstudenter som også deltar i prosjektet. Sammen skal vi hospitere ved to sykehus i Nablus de første to ukene, deretter arrangere en to ukers sommerleir for barn i den største flyktningsleiren på Vestbredden, Balata. Temaet for årets NorPal-Sawa er «mor-barn-helse» og i løpet av oppholdet skal vi særlig sette oss inn i helsetilstanden hos kvinner og barn i Palestina og hvilke utfordringer disse gruppene møter her.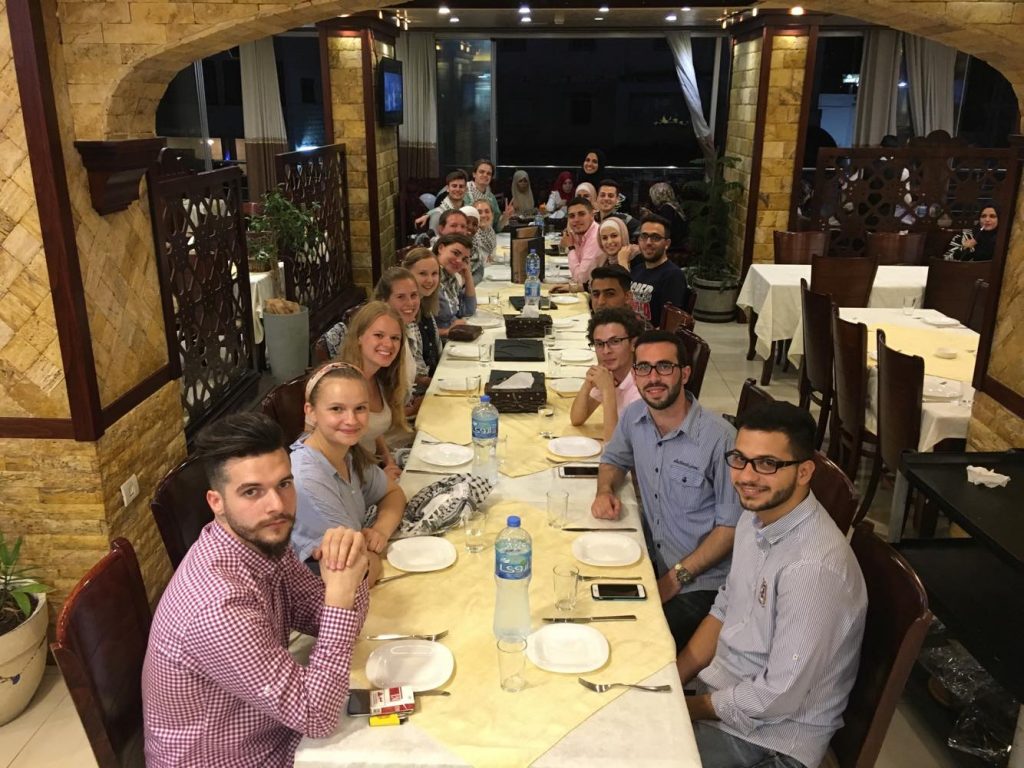 Fra første stund ble vi møtt med en utrolige gjestfrihet, spesielt hos de palestinske deltagerne, men også hos helsearbeiderne på sykehuset og hos innbyggerne i Nablus. Hvor enn vi går blir vi hilset med «welcome to Palestine», vi har blitt invitert til jus med våre arabisk-talende kvinnelige naboer og vi er overveldet av hvor godt de palestinske deltagerne tar vare på oss. Så langt har vi så vidt startet den kulinariske reisen gjennom det palestinske kjøkken (meget lovende), vi har lært våre første arabiske fraser («jalla!», som kan oversettes til «nå går vi!» eller «let's go!») og vi har fått utforske Nablus, blant annet med guidet tur i gamlebyen. Med et fullspekket faglig og sosialt program, gleder vi oss til fortsettelsen!
Vi kommer til å publisere blogginnlegg gjennom hele oppholdet om hverdagen i Nablus og helgeturer til nærliggende områder. Håper dere vil følge oss her, på Instagram (norpalsawa) og Snapchat (NorPal-Sawa)!
Hilsen Milla (skrevet 02.07.18)
//
Welcome to the NorPal-Sawa blog of 2018! This is the sixth year 10 Norwegian medical students have travelled to Nablus on the West Bank to learn about Palestinian culture, the Palestinian health care system og the Israeli-Palestinian conflict. Furthermore, we hope to make long-lasting friendships and eat a lot of hummus.
When we arrived the city of Nablus two days ago, we where welcomed by the 10 Palestinian medical students that also participate in the same project. Together we are going to be interns at two hospitals in Nablus the first two weeks, and then arrange a two-week summer camp for children in the biggest refugee camp in the West Bank, Balata. The theme of this years NorPal-Sawa is «mother-child-health» and during our time in Palestine, we are going to learn about the health situation of women and children in Palestine and what challenges these groups are dealing with here.
Right from the start, we where met with a tremendous hospitality, especially by the Palestinian participants, but also the health workers at the hospitals and the inhabitants of Nablus. Wherever we go, people say «welcome to Palestine» to us, we have been invited for juice by our neighbours and not to mention, we are overwhelmed by how well the Palestinian participants are taking care of us. So far we have tasted some delicious Palestinian food together, we have learned our first Arabic words («jalla!») and we have started to explore the city of Nablus. The next few weeks educational and social programs are fully packet and thus, we are really exited for the rest of our stay!
You are welcome us to follow us on this blog, on Instagram (norpalsawa) and on Snapchat (NorPal-Sawa)!
Sincerely, Milla (written 02.07.18)
//
أهلا و سهلا بكم إلى مدونة نوربال سوا 2018 !  في سنتها السادسة على التوالي ، حيث يقوم  10 طلاب طب من النروج  بالسفر إلى نابلس في الضفة الغربية للتعرف  على الثقافة الفلسطينية ، و النظام الصحي في فلسطين و الصراع الفلسطيني الإسرائيلي  و تكوين صداقات طويلة المدى و أكل الكثير من الحمص .
عند وصولنا إلى نابلس قبل يومين ، تم استقبالنا بصدر رحب من قبل عشر طلاب طب فلسطينين مشاركين في برنامج نوربال سوا  .حيث سنقوم معا بالتدرب في مستشفيين من مستشفيات  نابلس لمدة أسبوعين متتالين و من ثم سنقوم بمخيم صيفي في أكبر مخيم في الضفة الغربية ، مخيم بلاطة . موضوع المخيم لبرنامج نوربال سوا لهذا العام هو  <الأم-الطفل-الصحة> و في الوقت ذاته نسعى من خلال إقامتنا في فلسطين الحصول على المزيد من المعلومات عن المرأة و الأطفال في فلسطين و ما هي الصعوبات التي تواجهها هذه الفئات .
منذ اللحظة الأولى ، و نحن مغمورون بالضيافة المذهلة ، خاصة من قبل المشتركين الفلسطينين ، و العاملين في المجال الصحي في المستشفيات في نابلس،و  في كل مكان الفلسطينيون يرحبون بنا قائلين   " أهلا بكم إلى فلسطين "  ، و تم دعوتنا لشرب العصير من قبل جيراننا ، ناهيك عن ذكر  الاستضافة الغامرة من قبل المشتركين الفلسطينين و اهتمامهم بنا .
حتى الآن قمنا بتذوق البعض من المأكولات الفلسطينية الشهية ، و قمنا بتعلم أولى كلماتنا العربية "يلا" و بدأنا برحلتنا الاستكشافية في نابلس ،و قد قمنا بتنسيق برامج تعليمية و اجتماعية بشكل كامل .
يمكنكم متابعتنا هنا على المدونة ، و حساب الانستجرام(norpalsawa) و من خلال حساب سنابشات (NorPal-Sawa)!
مع تحيات ، ميلا ( تمت كتابته في 2.7.18) .