Dette blir et spesielt innlegg. Nettopp fordi denne helgen var helt spesiell. Noen av oss bestemte seg for å reise til Jerusalem, og vår kjære venn Ahmed ble med oss.
Ahmed er 20 år gammel. Han har alltid et smil om munnen, er mer reflektert enn 20-åringer flest og viser respekt for alle og enhver. Da jeg fortalte ham at jeg er ateist, begynte jeg automatisk å forklare meg selv. Han avbrøt meg og sa: «You don´t have to explain yourself. It is your choice, and I respect whatever you choose.» Han elsker American Eagle, han er initiativrik og vanvittig smart. Så smart at han satte rekord på deres avsluttende eksamen etter gymnasiet. Ahmed er også palestiner. Han er født og oppvokst i Nablus og studerer nå medisin på universitetet Al-Najah. Dette betyr at Ahmed måtte søke tillatelse for å få reise til Jerusalem. Han gjorde nettopp dette og, heldigvis for han, fikk han godkjennelse tidsnok til å bli med oss.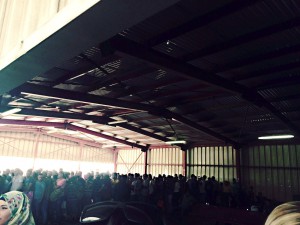 Vi drar avsted på formiddagen og ankommer Qalandia sjekkpunkt etter en times kjøretur. Qalandia er et av Vestbreddens største sjekkpunkter med utallige israelske soldater med automatvåpen hengende over brystet. Vi nærmer oss sjekkpunktet og en bussjåfør kommer bort og forteller at han skal til Jerusalem. Vi kan bare sitte på og kjøre tvers gjennom sjekkpunktet, null stress. Slik blir det derimot ikke.
Fordi Ahmed er palestiner, sier sjåføren at han ikke kan sitte på bussen over sjekkpunktet. Dermed går vi alle ut av bussen igjen og inn på området hvor man passerer sjekkpunktet til fots.
Vi kommer inn i en hall på størrelse med en fotballbane, som samtidig virker veldig liten. Den er nemlig full. Full av mennesker, mennesker som deg og meg, som ønsker å komme seg over sjekkpunktet på veien mot Jerusalem. Veggene består av solid mur eller tykke metallstenger. Da slår det meg at dette føles som et fengsel. Nei, vent, det er kanskje et fengsel? Desperasjonen, frustrasjonen og spenningen kan føles i den tunge luften. Vi trekker pusten og stiller oss bakerst i en av de uendelig lange køene.
Relativt kjapt blir vi fortalt at kvinner har en egen kø og at vi må gå dit. Nam, den eneste norske mannen på turen, blir igjen med Ahmed i den lange køen, mens vi presser oss videre gjennom rommet og frem til en markant kortere kø. Og der blir vi stående i det som føltes som en liten evighet. Tett i tett med palestinske kvinner og barn. På den andre siden av de tykke metallstengene står det israelske soldater. Høye, veltrente menn med store automatvåpen som er klare til å avfyres på under ett sekund.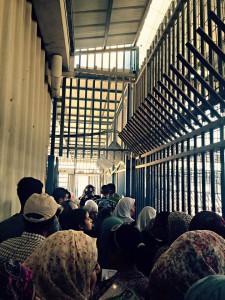 Plutselig går deler av køen bakover. Bakover? To kvinner kommer mot oss med bøyde hoder. De hadde blitt nektet å passere. Om de ikke hadde gyldig tillatelse vet vi ikke. Det ville ikke vært første gang at noen ikke slipper gjennom Qalandia, selv om de hadde papirene i orden.
Da køen endelig begynner å bevege på seg blir vi sluset gjennom med de som står foran oss. Soldaten som sjekker pass og tillatelser, smiler stort når han ser oss. Etter å ha gransket palestinernes papirer nøye, ser han så vidt på mine. Han er så jovial at jeg kjenner spysmaken i munnen. «Put your passports away, somebody can steal them.», sier han med et glimt i øyet.
Nå står vi midt i sjekkpunktet. Tykke metallstenger, fra gulv til tak, omringer oss på alle kanter og soldatene står rundt oss med stenansikt. Det som skiller oss fra den andre siden er kontroller, scannere og burlignende passasjer. (ref. bilde)
Det er klart det er en ubehagelig følelse, men jeg klarer likevel ikke å kjenne på frykten. «Jeg er hvit, de kan ikke gjøre meg en dritt.» er det enkelt å tenke og det er svært ofte helt korrekt. Det jeg ikke klarer å slå fra meg er hvordan palestinerne må ha det. Det å være så eksponert, så naken, så ubeskyttet i en slik situasjon.
«Other passports, come here!» blir det ropt etter enda en liten evighet i neste kø. Skammen kommer i hundre og helvete. Vi blir ledet forbi alle de slitne, frustrerte palestinerne og rett gjennom resten av kontrollpunktene. Jeg tør ikke se en eneste palestiner i øynene. Det gjør for vondt. Soldaten smiler og føler seg tydeligvis snillere enn Messias selv. Det er åpenbart at han forventer et takk. Et takk for hva? For at han åpenbart diskriminerer palestinerne? Nei, den må du lenger ut fra Vestbredden med.
– Sigrid