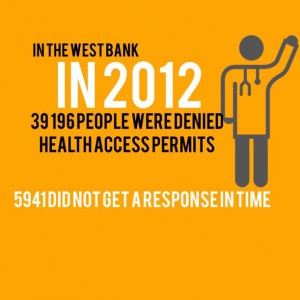 I flere tiår har de palestinske sykehusene i Øst-Jerusalem hatt en spesialistfunksjon, og fått henvist pasienter fra både Vestbredden og Gaza. Alle palestinere som henvises må få en israelsk tillatelse fra offisielt hold for å kunne reise til disse sykehusene og få behandling her. Én av fem søknader fra pasienter på Vestbredden avslås.
På sjekkpunktene er det spesielle prosedyrer for pasienter som fraktes med ambulanser i akuttsituasjoner. Det er kun unntaksvis at ambulanser fra Vestbredden til Øst-Jerusalem slippes gjennom, selv i ekstreme akuttsituasjoner. I 2011 fikk kun fem prosent av ambulansene passere sjekkpunktene. Særlig problematisk er det å passere sjekkpunktet Qalandiya, som er grenseovergangen fra store byer på Vestbredden som Nablus og Ramallah.
Det er ingen offisielle kriterier for hvem som innvilges tillatelse til innreise, men alder, kjønn, sivilstatus, tidspunkt, type medisinsk behandling, familierelasjoner og uspesifiserte sikkerhetsmessige årsaker synes å påvirke utfallet. Sistnevnte er den hyppigste begrunnelsen for avslag.
Konsekvensene er at pasienter dør eller at deres tilstand forverres i påvente av behandling. Palestinske barn mellom 0 – 17 år er blant gruppene som er særlig sårbare for Israels praksis, da de må være i følge av et nært familiemedlem som også må få godkjent innreise.
Les mer om palestinernes manglende tilgang til helsehjelp i WHO-rapporten «Right to health: Barriers to health access in the occupied Palestinian territory, 2011 and 2012».